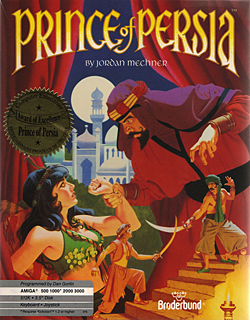 The second (of two) books Jordan Mechner self-published is another set of his own hand-written journals, this time covering the development of Prince of Persia and its sequel, Prince of Persia 2.
The journal begins as Karateka has become the #1 best selling game on the Apple II. Not only does Mechner make 15% royalty off every copy sold for the Apple II, but a slightly lesser royalty (7.5%-10%) on ports for other systems. It's enough money to cover his expenses for the next few years, but eventually he'll either need to make another game, sell one of his film manuscripts, or (gulp) get a day job. After graduating tom Yale in 1985, Mechner makes the trip from NYC back to California to begin work on a new, Persian-styled game that is instantly dubbed "Prince of Persia" around the office.
The Broderbund Mechner returns to is not the one he left. Games like Choplifter aren't selling like they used to. The company's new best seller is Print Shop.