Mischief Maker's Top 10 Quarantine Games List!
Going stir crazy from being stuck inside all the time? Want to eat the lotus of videogames, but want only the finest curated lotus? Here's 10 excellent games you may not have heard of, in no particular order, to take your minds off Captain Trips:
For years I've wanted a proper clone of Final Fantasy Tactics, but everybody always fucks it up, even the official sequels! But FINALLY, 20 years after the fact, someone made a proper clone with all the mechanics and job system intact, and none of the garbage filler like FFTA's "laws."
Graphically it's unimpressive but not ugly, and the maps are 2D instead of rotatable 3D, but other than that it's everything I could want out of a modern FFT. You have a selection of 20 jobs to choose from, and the starting jobs have all the basic skills you'd want right away (like standard counterattack). Despite the 2D terrain, battles have all kinds of "Into the Breach" style unit repositioning abilities that let you do things like push an enemy who can't swim into a water tile for an instakill.
Random battles for grinding are purely an opt-in affair, yet available on-demand, with a preview of the level of enemies you'd be facing at that particular location. Also everyone on your team gets "vicarious" job points from other characters' experience and start racking up skills in classes they never played (and every class you master awards a permanent stat boost). And if you're a real FFT min-maxing lunatic, they even implemented a (purely optional and actively discouraged) option to drop a character back to level 1 but keep your skills so you can grind them up in the class of your choice and get exactly the stats you wanted. This is a game that wants to be enjoyed by its players.
Grab it, grind your balls off, create the ultimate team, then raise the difficulty too high and get murdered. Great way to wait out the Apocalypse.
A cheerfully intense twin-stick/mouse WASD overhead arena shooter with transforming stages. The twist is you're playing an android on limited battery charge and every once in a while enemies drop a battery pickup that obligates you to wade through the crowd of baddies and grab it or risk letting your power run out before you beat the stage.
There are several different androids to pick from, each with their own unique primary attack pattern and powerful secondary attack limited by an overheat meter. (My favorite is Peanut, whose secondary attack is to fly through the crowd behind a pneumatic drill, rapidly destroying the first strong enemy she hits.) The graphics are a soft and colorful contrast to all the carnage surrounding you, and the music is fun and peppy.
I forgot who said it, but the best description I heard for AAC's gameplay was, "In other arena shooters, it's you among the robots. In Assault Android Cactus, it's the robots among YOU."
A tactical hex-based combat-heavy sci-fi 4X game (set on the surface of a single planet) whose gameplay is heavily based off the classic fantasy 4X "Master of Magic." The major hook to MoM was finding synergies between the inherent strengths of the fantasy race who made up your followers, and the school of magic your wizard-king specializes in. Planetfall takes that formula and slaps sci-fi terms over all the fantasy talk ("school of magic" becomes "secret tech," "spells" become "operations," and the "dwarves" become the "dvar") but takes full advantage of the sci fi setting to give units tons of interesting new abilities that wouldn't work in a Tolkien world. As a long-time fan of the Age of Wonders series it's difficult not to gush about all the gameplay improvements without turning this little blurb into a 30-page essay.
The setting is kind of odd, as it feels more like someone digging through their old toy box from the 80s and waging battles between action figures from wildly different settings (like He-Man vs GI Joe vs Dino-Riders) rather than a cohesive world of its own. Likewise the aesthetics evoke the look and soundtrack of those 80s toy-hawking shows in a way that all the sythwave games miss. A lot of games lately try to "be" 80s, Planetfall feels like something "from" the 80s, all the way down to the 80s hairdo, sunglasses, and Tom Selleck mustache I can give my custom commander.
But come at the game from the standpoint that you are sitting on your bedroom floor playing with mismatched action figures and it's an absolute blast. Even the lowliest unit now has multiple attacks and support abilities to use in tactical combat, from tossing grenades to overwatch fire. Every unit can slot (and replace) up to 3 upgrades from electric bullets to phase devices that let them walk through walls. Hell, commanders can opt to equip an attack chopper in lieu of a weapon and gain all the abilities of that vehicle boosted by all the skills of the commander. Not being limited to the 4 elements, the secret techs bring all sorts of interesting possibilities that were only hinted at in the fantasy AoW games, like the Xenoplague tech where you outfit your troops with horrifying slimy alien parasites sticking out their backs for super strength and the ability to infect enemies and turn them into tiny facehugger-style monsters which can eventually mutate into giant clawed monstrosities.
Maybe… maybe focusing on the plague powers wasn't the best thing to focus on right now. There are other secret techs based on wormholes, psychic powers, AI singularities, and more!
The only thing about this game that's a letdown from Age of Wonders 3 is the strategic map. Instead of the hex-by-hex, what-you-see-is-what-you-get method of territory capture AoW 3 used, Planetfall uses a more abstract system of annexing entire provinces at once, but you can only extract one of the resources located there in an "exploitation" system the tutorial does a crap job explaining. (Note that most reviews of this game are obsolete because it recently had a massive balance and interface update that addressed most of the old complaints. I didn't buy the game until post-update so I can't comment on the changes.)
Waste hours constructing your ultimate Amazon warrior riding a T-Rex with lasers attached to its head, then take her to battle against the Strogg from Quake 2. I love this fucking game!
Put simply, the best belt-scroller brawler of all time, at least that I've played.
Taking all the best from Final Fight, Streets of Rage, The Punisher, Aliens vs Predator, and mixing them all together into a simple-to-learn difficult to master game. You've got Gal, the speedster with an emphasis on aerial combat, Ricardo, the "What if Mike Haggar was a Cow?" heavy hitter, and F. Norris, the technical Ninja with physics defying moves. The sheer depth to this game's combat mechanics approach Devil May Cry-level combo potential, but all that air-juggling is entirely optional and you can muddle through on basic moves alone without being overwhelmed. (In fact the game has secret moves that need to looked up on the internet, but you can still win without ever touching them).
This probably isn't a game you want your wife or girlfriend to see you playing, especially with the ridiculous tit-bouncing animation for Gal's sprite.
In terms of actual gameplay, I would say the one weakness of the game is the one shared by its genre, brawler fatigue, but the fact of the matter is Fight'n Rage saves your progress if you quit mid-game! Greatest. Belt-scroller. EVER!
Battlestar Galactica – Deadlock
Speaking of games whose reviews at release are now totally obsolete, Battlestar Galactica Deadlock is a turn-based tactical naval sim in 3D space that started out mediocre, but thanks to many, many heroic patches and DLCs became something special.
The setting is a prequel to the Ronald Moore reboot series. It's the first war against the Cylons and in this time Battlestars are just the flagships to large and diverse fleets of colonial warships. I really like how this game makes use of models from the original 70s TV series for earlier versions of the ships. Despite being in space, this is a world Moore created in response to years of Star Trek technobabble, so phones come on cords, Viper fighters shoot bullets, and the major thrust of combat is clouds of missiles and torpedoes, sometimes with nuclear warheads in them.
The big thing about this title is it's more a simulator than an abstract dice-based boardgame. Torpedo swarms are objects moving in 3D space that can be dodged with evasive maneuvers, or blown up in a Battlestar's flak screen, but only if you're positioned just right to catch them. Meanwhile those big imposing turrets on top of a Battlestar have a hard time catching fast-moving corvettes and can't aim at an enemy flying underneath. Add to this deployable mines, fighter and bomber craft, teleporting Cylons, missile-replenishing support craft, and it all turns into a delicate dance of death that's SO satisfying when you get a perfect firing line and watch the enemy's ships melt under withering cannon fire.
And then when it's all over the game has an option to view a replay of the fight and watch your tactics unfold with dynamic shakey-cam to look like a scene out of the show.
Note that this game has a crapload of DLC, but the only ones necessary for a first time player are "Reinforcement Pack" and "Broken Alliance." The rest are separate campaigns taking place later in the story and you can buy them later.
Dungeons III or War for the Overworld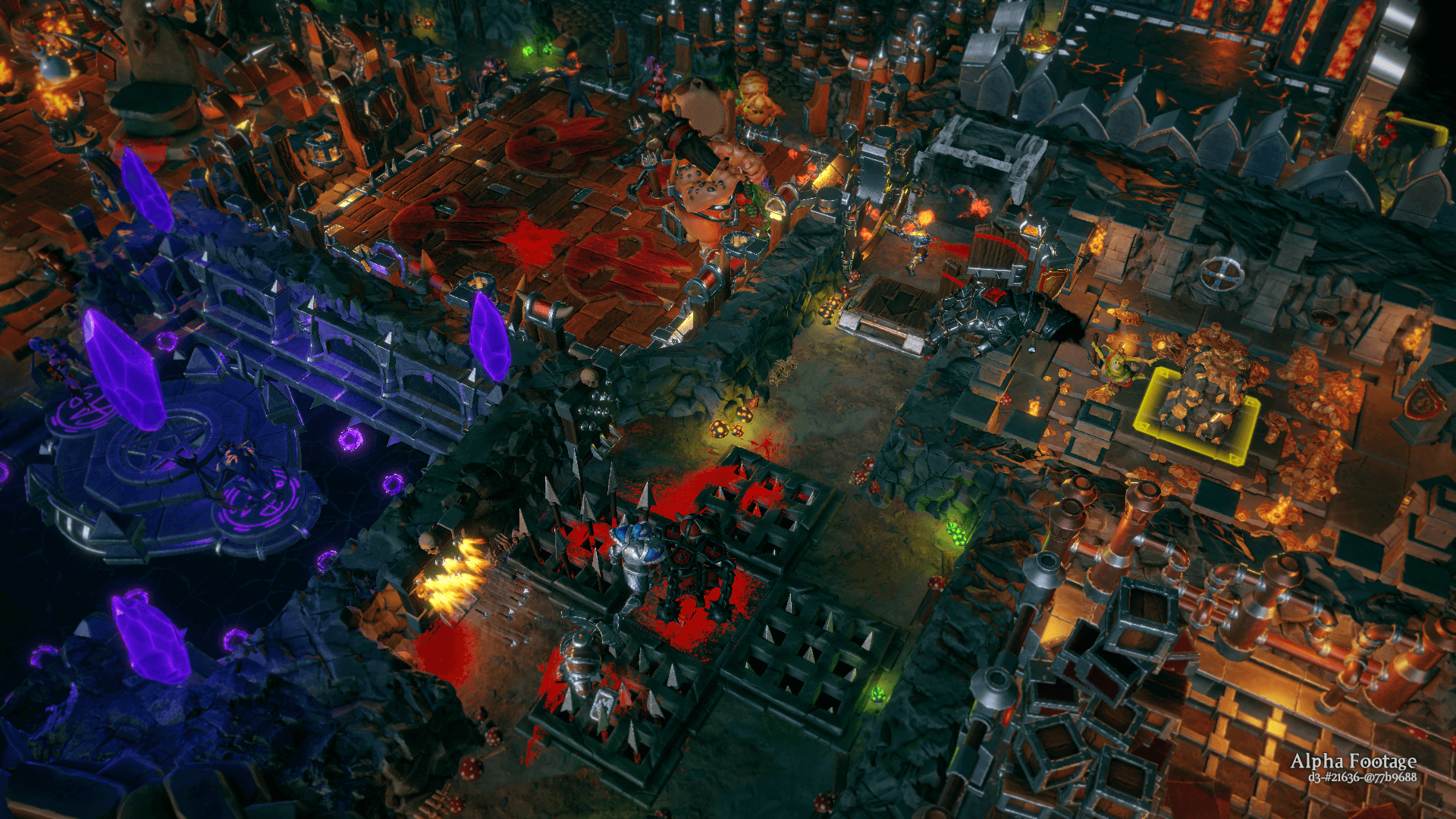 Dungeons III
War for the Overworld
The Dungeon Keeper series is dead, but there are two excellent, but distinct, spiritual successors: War for the Overworld and Dungeons III. I imagine more people are interested in the differences between the two than a mini review of either one individually so here goes: Dungeons III if you want a singleplayer-focused game based around randomly generated skirmish maps, War for the Overworld if you want a multiplayer-focused game that takes place on hand-crafted maps.
Both games have you playing as a disembodied floating hand of evil who marks blocks of dirt for excavation by your diminutive worker minions, then fills the resulting rooms with amenities to see to the needs of your growing horde of monsters, as well as traps to weaken invading forces of do-gooder heroes looking to slaughter your innocent monstrosities and steal your gold. Both games add a 3-branched tech tree, each suited to a different play style. Both games have a top-shelf voice actor providing narration and occasional commentary, WftO grabs DK's original Stephen Fitts as a malevolent dark god, while Dungeons III has Kevan Brighting as a storybook narrator whose sing-songey inflection is meant to form a comedic contrast to the carnage and evil you're wreaking on the world.
War for the Overworld keeps very true to the original game's formula of keeper-on-keeper battles taking place in underground dungeon structures. Dungeons III is an asymmetrical battle between your underground dungeon which functions like the original game, and the overworld kingdom of good that functions like an RTS. Dungeons III makes the player constantly bounce back and forth between conquering sections of the overworld to harvest evil (for teching up) and destroy hero generators, then returning to the dungeon to fight off hero waves then rearm and rebuild for the next surface foray.
In terms of aesthetics, from the original Dungeon Keeper's dark comedy tone, War for the Overworld leans more to dark, and Dungeons III leans more to comedy. WftO's dungeons have more muted colors and much nastier-looking monsters. DIII's dungeons are by contrast a riot of colors and the actions of your monsters are more cheerful, like the Dr Seussian machine the Orks use to build your traps. Story-wise, War for the Overworld's campaign is more interesting while Dungeons III's story is an "Epic Movie" style comedy about nonstop lampshading and references that some people find hilarious but I find odious.
My personal preference is for Dungeons III on gameplay grounds, sticking to the random skirmish maps, but if multiplayer's your bag, grab War for the Overworld. Note that "Clash of Gods" is the only DLC for Dungeons III that adds any new gameplay mechanics, the rest are all 3-mission mini campaigns and you aren't missing out on any important story by skipping them.
Need a little excitement in your quarantine? Redout is a hoverjet racing game in the style of F-Zero. Playing it produces the greatest sensation of speed I ever experienced in all my years of gaming.
The game's clever trick is that the world is rendered in a low-polygon "stained glass" style that makes it easy on the hardware, then buries it in post processing effects. Since it's all going to be zooming by in a blur anyway, who cares if it's low poly? The result is a sense of complex cities screaming past as your hoverjet does stomach-churning roller coaster loop-de-loops.
It's my favorite racing game. And if you aren't interested in multiplayer, grab the "solar challenge edition" at GOG that gives you all the DLCs at a massively discounted price at the cost of no multiplayer.
The best "maze-builder" tower defense meets the transforming command ship of Herzog Zwei meets Godzilla-sized boss tanks meets the single greatest building destruction engine in gaming history.
You play a malevolent alien force that's like a cross between the Borg and the Decepticons invading Earth by dropping vulnerable terraforming cores from space that must be protected from earthling armies by your transforming alien fighter jet and all the defensive turrets and laser fences you can build to herd them to their doom. But the Earthlings won't go down without a fight and on top of the endless tank convoys and bomber formations they field giant boss vehicles with individually-targetable turrets and other weak points that feel like they've been plucked from the Ray force games. On top of all this, buildings crumble and topple in incredibly realistic ways and can land on enemy convoys, crushing tanks underneath and forcing the survivors on the other side to find a new route to your core.
Is it an action game? Is it a strategy game? Is it a puzzle game? Whatever the hell it is, it is GLORIOUS!
Tangledeep is a genuine roguelike, built from the ground up with a goal toward fun, and a delightful 16-bit SNES aesthetic.
This game draws inspiration from a lot of sources, like the job system from Final Fantasy Tactics, the Item world from Disgaea, and the breezy controller-friendly interface of Shiren the Wanderer, among others. Instead of a hunger mechanic, healing and the stamina and mana to power your skills is in limited supply and must be gathered by exploring. I really like how movement and positioning is such a key component of combat, enemy super attacks mark the targeted squares one round before activating, giving you a chance to escape or risk trying for a finishing blow. You can return to town whenever you like to sell equipment and get new quests.
Even though it's a real roguelike and will totally murder you for one absentminded move, the smooth interface, charming graphics, and beautiful 16-bit music make for one of the most pleasant gaming experiences of 2020.
Clone Drone in the Danger Zone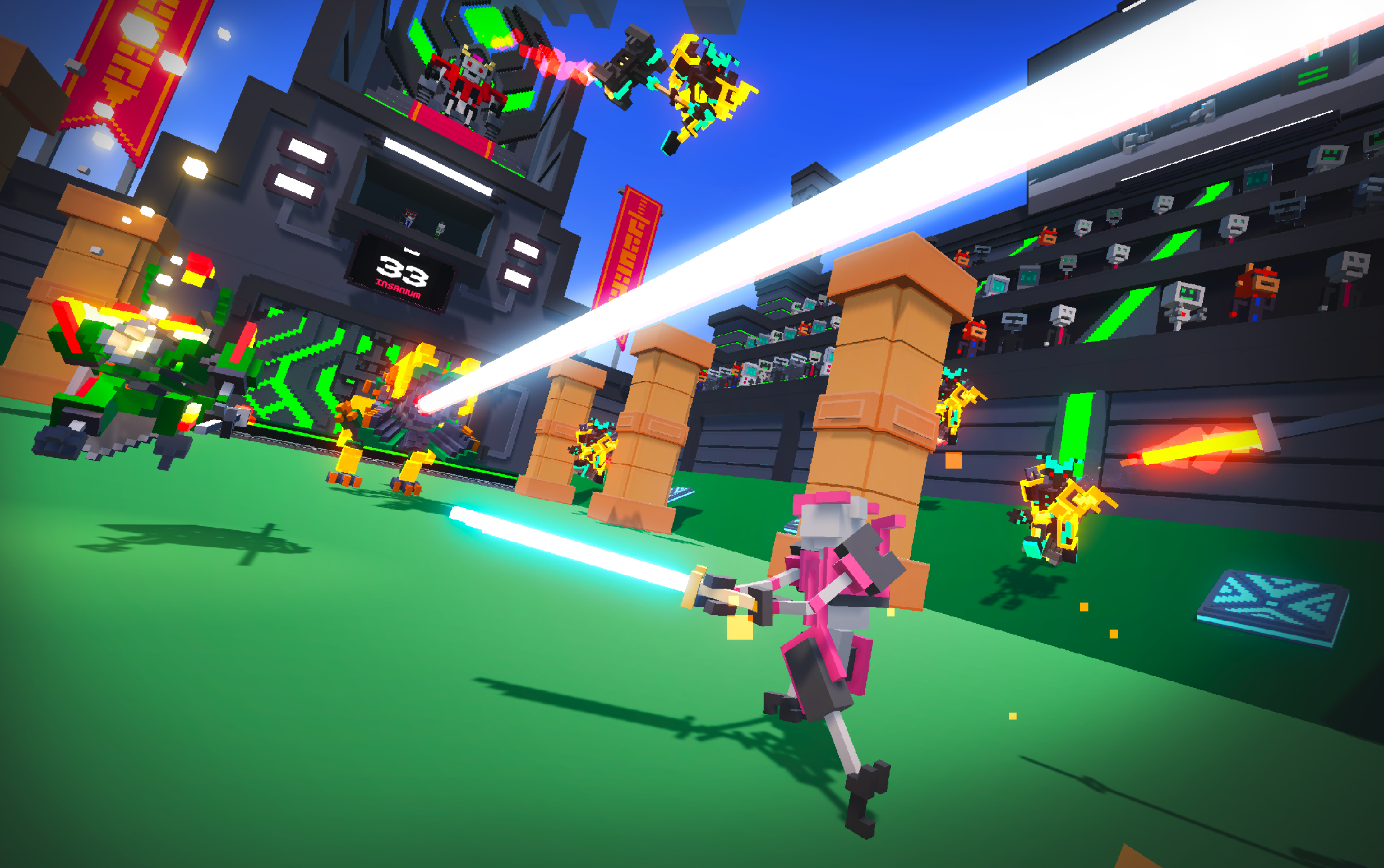 Clone Drone in the Danger Zone is a voxel-based third person melee combat roguelite that's the true successor to the old Lucasarts Jedi Knight games. I know, shame on me for suggesting an early access game. But the game has been fully playable for over a year and the only thing remaining is the final chapter of the story campaign. Endless mode is where it's at and it's feature complete at this point.
The premise is you've been kidnapped by alien robots and had your consciousness uploaded into a robot body then forced to fight in a gladiatorial arena until you die while being mocked by a robotic Howard Cosell and Frank Gifford. Their weird text-to-speech voices only enhance the dark humor. But maybe if you survive long enough there'll be a chance for you to escape and possibly save Earth?
Each round you enter a random obstacle course filled with hostile robots all out to kill you. Luckily you've been given a lightsaber energy sword that can slice clean through their voxel bodies. Unfortunately their weapons do the same to you and you could find yourself hopping around on one leg (a difficult but not hopeless situation). If you live, you visit Upgrade Bot and buy new powers like a jetpack, or a flaming sword, or a laser bow, or just extra lives. I'm having difficulty putting into words just how satisfying landing the perfect hit is. This is one of the most visceral combat games since Hammerfight and I love every bit of it. Even if the early access came to a sudden halt right now, the game that's been released to this point is totally worth it.
Be safe, wash your hands, stay inside, then melt your brain with GAMING DOODZ!!!
Comments? Join us on the forum.

Mischief Maker