Welcome! It was a long time going, but these are the ten best games of the decade, as decided by the Caltrops forum.
Here are links to the other entries in this web series:
Honorable Mentions: Part One
Entries #50 – 40
Entries #39 – 30
Entries #29 – 21
Entries #20 – 11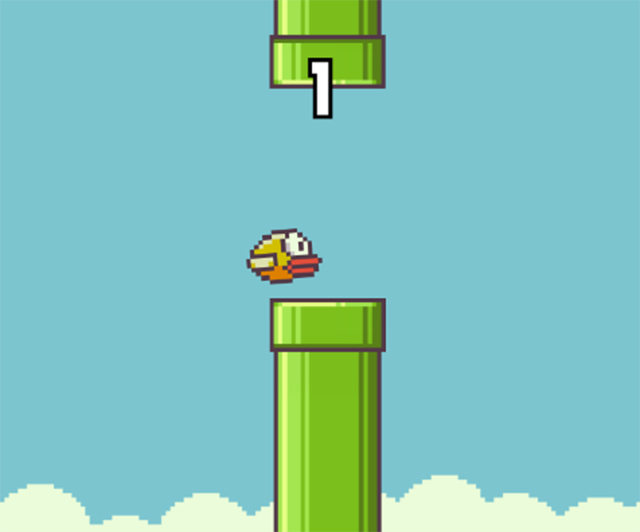 #10 – FLAPPY BIRD by dotGears (2013)
Original Game Unavailable
Another complete phenomenon, this game took over the world for a little bit in 2013. Dong Nguyen, totally his real name and the developer, took it off the app stores because it was apparently giving him anxiety, although he was reportedly making $50,000 a day with it. There are countless clones, as there were Tetris, which Flappy Bird most reminds me of. There's an arcade game version that is completely licensed, however, and it has beautiful graphics. Or at least graphics maybe not completely cribbed from Super Mario Bros., haha?
---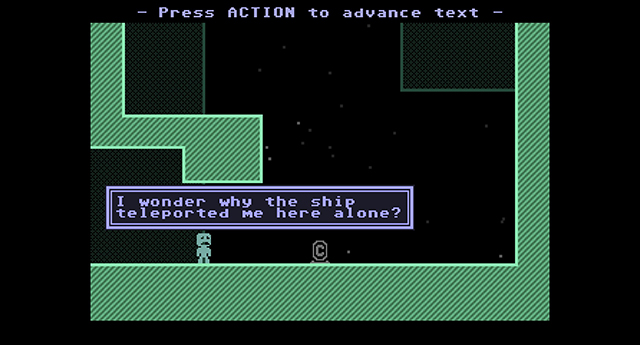 #9 – VVVVVV by Terry Cavanaugh (2010)
Steam Link
Perfect graphics, perfect audio, perfect story – makes you care about the characters in the game within 20 seconds, which most games never do in several hours – and perfect gameplay. I had to go into the game to take a new screenshot because the ones I had taken in 2010 and uploaded to Steam are seemingly all gone, including the 12 pictures I took of the girl in the Playboy bunny suit for Dead Rising 2. Do I go to Gabe directly about that? I just don't want the resolution to be all weird.
God, look at that screenshot. The player character saying, "I wonder why the ship teleported me here alone?" together with the frown on the PC's face contains more drama and emotion in a single screenshot than most games contain ever. The VVVVVV characters were Baby Yoda but 10 years earlier. Writing in games is terrible, but it's been terrible forever, to the point where something simple yet effective like this stands so far apart from its peers.
---

#8 – ELITE: DANGEROUS by Frontier Development (2014)
Steam Link
pinback says, " I have put in more hours with this boring, empty game already than all of you put together, and now it's officially released.
I think it's wonderful. I am astonished by something every time I play, and usually more than once.
Tonight I was reminded about one of my most favorite things about it, and it's very subtle, but it's completely excellent. It is:
When you hyperdrive or whatever it is into a new system, you wind up by the star. The star is very bright, and washes out most of the other stars in the sky. What's amazing is that the starfield background is consistent with the galaxy map — those are actual stars — but let's move beyond that, because that's old news.
What makes me giddy every time is that when you fly away from the star, towards one of the distant planets, and get out of the corona of the sun, the background noise in the starfield blacks out, and hundreds and hundreds of stars show up and shine brightly, like driving from the big city to the middle of nowhere.
If you wanted a space game because you like space, I mean… Christ. There will probably be nothing better than this in my lifetime. Well, there probably will be, but this is it for at least the next decade.
HOLY FUCKING SHIT you guys. It's incredible."
---

#7 – THE WITCHER 3: WILD HUNT by CD PROJEKT RED (2015)
Steam Link
Worm says, "It's Witcher 2 with a more open world, kind of like Dragon Age Inquisition where there are a few open zones but they're bigger. Maybe the size of a GTA city? I'm not sure. Combat is a lot of fun, very Arkham without being too braindead. Quests have a number of outcomes and generally involve hunting and killing something which is fun too. Generally I think it's a solid improvement on 2 in every way and a game that really represents how open world games ought to feel. Story doesn't get in the way, you're rarely trapped in endless cut scenes, and it feels good to explore."
That's not all Worm said, but I wanted to settle you with the first quote first. Worm also said the following, during a discussion about Ciri being kind of a Mary Sue character: "Honestly I always get surprised when people have more hang ups than me. I'm reportedly the guy who wants to club women to death and eat their skin but I didn't really have an issue playing as Ciri the God-McGuffin. She zwee fights and loves adventure. Also you get to see old lady tits at one point in her story."
(I don't think you want to eat their skin, my friend.)
---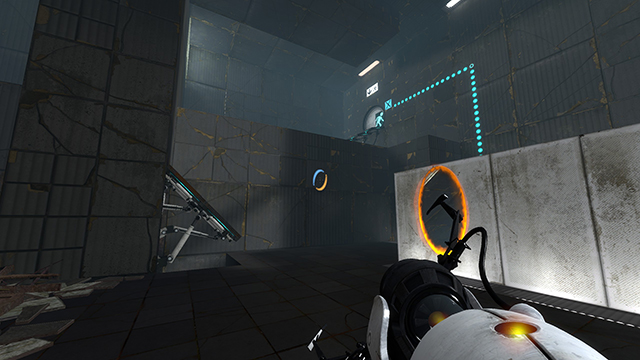 #6 – PORTAL 2 by Valve (2011)
Steam Link
A genuinely funny game, I would like to think that the writing in Portal 2 is the minimum of what we should expect for computer games. My memory is that the original Portal had a bit of a slow burn for comedy. The entire game was sort of slow burn. This probably means that GlaDOS has ten killer lines in the first two boards because my memory is awful. I do recall that Portal 2 is strap-the-fuck-in funny from the start and kept at it throughout my play.
---

#5 – P.T. by 7780s Studio (2014)
Original Game Unavailable
(I'm letting go of the fact that 20% of the top ten games of the decade are completely unavailable in their original form. This is the only entertainment medium that pulls this shit and it's so goddamn dumb and immature. And I get that the Flappy Bird guy was going insane, so fine, but this is purely an asshole move by Konami on this one.)
We all found out later that P.T. is an interactive demo for Resident Evil 7, a fine game in its own right. But there was a spooky ghost (the best kind) running around P.T. and the very simple gameplay decision to make exiting the house bring you right back into the house is the horror bit to end all the other horror bits in the game. It's genuinely creepy, the art direction couldn't have created a filthier, more disgusting house if they tried. When I played this I thought that something was going to come after me every time I leaned in to look at something (and they kind of do that a lot in the full Resident Evil 7 game). Admittedly, it's short to where it never wears out its welcome and requiring the Playstation 4 microphone to solve it is a nice throwback to old console games that had that input device nobody knew or cared about, but were useful for like one game.
---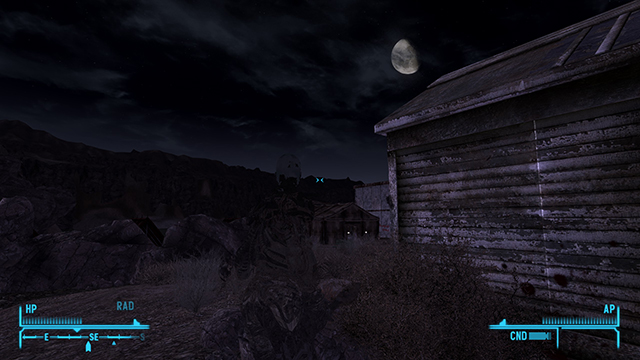 #4 – FALLOUT: NEW VEGAS by Obsidian Entertainment (2010)
Steam Link
It definitely got better as it was patched and became mostly stable. Not 100%. But a lot more playable than when it was released.
New Vegas is probably the first or second best Fallout game from a role-playing perspective, depending on how you feel about the original. It doesn't put its best stuff in the first two hours, but beyond that things really get fun. Cass is one of the best companions in any of these games, but before I was able to get her to join me I spent 30 hours with Boone. I didn't say ten words to him the entire time we were together. He did, after all, murder someone in the head that he believed sold his wife to slavery and then he skipped down, which is pretty bad ass now that I think about it. Well, except for the fact that he sniped his victim in the head from a distance and it was at night and the victim was an old woman and he did it from a fiberglass dinosaur. None of those things are bad ass. If it was any softer he would have killed her with a cement milkshake and then denied that anyone on earth had ever made a cement milkshake, especially him.
Oh, Boone.
I used to wonder if people would actually choose to align with the Caesars, as they seemed like cartoon authoritative bad guys, but what have we learned about game players in the last 10 years? You can't get your dick sucked enough on Reddit if you're a shitty moderator, of course hundreds of thousands of players probably played the last half of the game in the fetal position, soaked-through in their own piss, becoming total stans for Caesar. They do it every day when they post about games. Choosing any of the other factions – and I'm glossing over the fact that you can make decisions in New Vegas where you really can't in Fallout 4 – is the right decision but I guess that's why the game is so good, as there are interesting decisions to be made.
When the moon is out it's tough to not think that this is a really gorgeous game, too.
And I wish that in-game someone said that the vocalist for the Big Iron on His Hip song died the day before New Vegas starts, as that could explain why the song is played literally every third track on that one station. It would be like the radio stations becoming Rush tribute ones when Neil Peart died.
---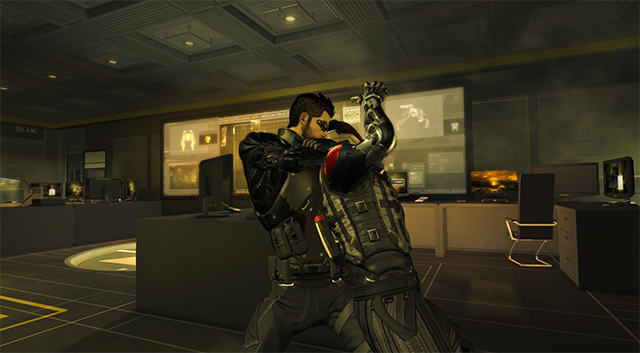 #3 – DEUS EX: HUMAN REVOLUTION by Eidos
Steam Link
Because the game is so good I want to quote some people regarding the cut-scenes:
FABIO says, "Every…single…one of the cutscenes involving boss encounters is some contrived jRPG Squaresoft horseshit. First my super character lets a 400 lb. metal man sneak up and cold clock him while Boris and Natasha go for their elevator ride and I thought that was the low point. Then fast forward to a Chinese penthouse and it's SO SOLLY, G.I. I DIDNT MEAN TO I JUST POOR WEAK WOMAN PREASE RET ME FONDLE YOU WHILE I SNEAK BEHIND AND ha sucker. At least the Barret fight left plenty of ammo lying around. I have no idea what you were supposed to do if you were out of ammo without cloak in the penthouse."
Arbit says, in reply: "Christ, that was bad. Adam Jensen, a guy with 3 foot blades implanted in his arms, is going to let an obviously augmented woman get all touchy-feely with him? I expected him to get gutted and endure another surgery sequence, only this time Sarif chops off his penis and the stupid parts of his brain because really how fucking dumb can you get."
The game taken as a whole is a worthy successor to the original Deus Ex and Adam Jensen voiced by Elias Toufexis is the best character / voice actor combo in video game history.
---

#2 – HOTLINE: MIAMI by Dennaton Games
Steam Link
Incomprehensible except when you can actually play, Hotline: Miami is an indie champion. Although the developer had made tons of games before Hotline, so it's that thing where it only took 40 tries to become an overnight sensation. I'd describe the magic of Hotline: Miami as sort of the ultimate realization of an action figure game that we might have played as little kids, only this time there are all manner of weapons that blow things up nicely. Oh, and when I was playing with toys at age six, the stories I had explaining the violence made more sense. Hotline: Miami is on the right side of frustration versus a feeling of accomplishment. In making me love it over the first five levels and then pissing me off because it was trying to teach me new things about itself, the game sets itself up as an 80s NES throwback – if you've solved this game in any fashion with any letter grades in the system, you've done something in gaming worthy of respect.
---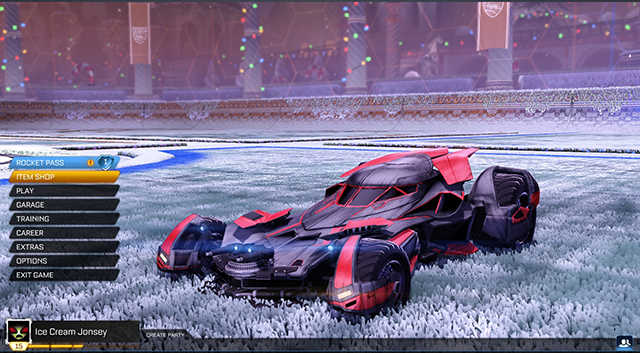 #1 – ROCKET LEAGUE by Psyonix
Steam Link
I think this is the best game of the decade and I feel the posts in our forum also bear this out. The fun parts of this game can only be experienced as a video game, which I feel is important for the game of the decade. The graphics are crisp and colorful, offline/bot mode is just as much fun as multiplayer with real humans and you can play it forever and constantly progress at getting better at Rocket League.
Entropy Stew says, "Initial games are chaos and have shit ball movement, because you are matched with other people who are as bad as you are at the game. Get halfway decent, and you start getting matched with other halfway decent players. Then, the game opens up. A goal can easily be scored across the entire field if the ball is not contested properly, and if the net is not defended. The level of ball control is insane given that it's just a physics simulation of colliding bodies, and due to level of agility your car has. Don't even get me started on aerials (which I still suck at – finally scored an aerial goal in a game last week though).
This game isn't soccer, and it sure as fuck isn't a soccer video game. Those are ass. It's some kind of hockey/soccer hybrid without rules, with jetpacks. It's the action man's soccer. It's glorious."
It is glorious. It was a good decade for games. I mean, hell, they're all good, but I think the games at least in the top 10 will be played and/or remade forever. It is a tad depressing that what we believe are the two best games had no story (Rocket League) and an incomprehensible one (Hotline: Miami) but there's plenty of story in the other ones.
---
There's one last note. This project was made possible because for 10 years people in the Caltrops forum wrote about games and expressed their opinions and let the site be a sort of archival record on how games were perceived at the time. Caltrops needs your support for such a thing to happen again in ten years. Unlike every scam Kickstarter, by saying we need your help we don't need money, just your takes. So please feel invited to post about the games you like, the games that you love, the games that frustrate you and all the other video game drama in-between. Join us, won't you?
---